Estimated reading time: 5 minutes
Do you know how to build trust in your relationship? At the beginning of a relationship, it is common to have a high level of trust. This means you have a strong sense of confidence that your partner has your best interests at heart and that they have your back.
During this honeymoon phase, you often can genuinely say, "Of course I trust my partner." But did you know that it's very important to ask some of the following questions:
"What is the basis for this trust?" Do you trust in your relationship because they haven't disappointed you in any major way? Has trust actually been put to the test? What proof do you have that you can safely put your trust in this person? Are you generally a trusting person? Is your trust based on some spiritual, philosophical or other worldview, or on behaviours you have actually observed?
The Trust Metric
Based on 40 years of research about what really makes couples happy, Dr. John Gottman established a way to mathematically evaluate trust in your relationship. He calls it the trust metric. This free quiz on the trust metric can help you assess the level of trust you have in your partner.
The Gottman research shows that to build trust, love, and loyalty in your relationship, there is a clear path to follow. Here are five clear pointers for how to build trust in your relationship:
Make trustworthiness a main priority in your relationship.
Act to maximise your partner's well-being.
Trust is built in small, positive moments.
Avoid negative comparisons.
Generate frequent thoughts and acts that cherish your partner's positive qualities and minimize your focus on their negative faults.
Definition of Trust
Trust can be defined in this way:
a:  assured reliance on the character, ability, strength, or truth of someone or something
b:  a person in which confidence is placed.
Realistically, trust in your relationship is built slowly, over time. Here is a 5 minute video of Dr. John Gottman discussing trust.
John Gottman has said that the basis of trust is attunement.
What is Attunement?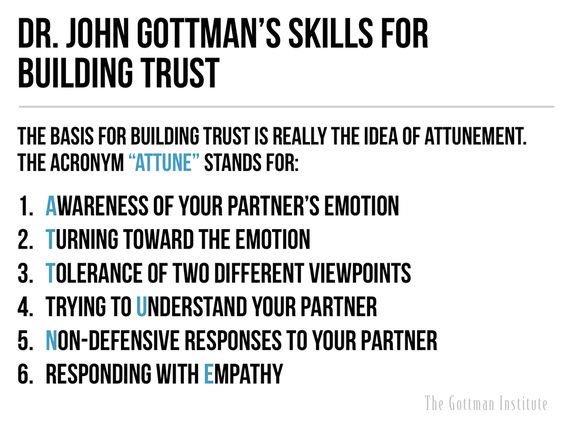 The work of attunement and building trust in your relationship occurs as you move through life together. It is built up over many years of a relationship. This doesn't mean the trust you have now isn't real. But it does mean that the trust you have now is not as strong as it could be. You build trust by mastering the skills of attunement.
Attunement is built through developing the skills of intimate conversation. Conversation is a skill and an art. Good communication is emotionally intimate communication. Intimacy is an essential element of trust.
Intimate Conversation
The development of intimacy happens in five predictable stages. Intimate conversation is an important part of developing intimacy. Intimate conversation means:
learning to put your thoughts and feelings into words
asking open-ended questions
asking for more details and clarification to deepen understanding and connection.
It means learning feeling words and learning to keep a conversation going.
Trust in your relationship is built by expressing compassion and empathy for your partner's feelings. This is essential when dealing with any betrayal, especially affairs and cheating.
Betrayal happens in every relationship
Often betrayals build up – like small paper cuts. Sometimes, they knock you down and totally shatter you. Either way, they present you with an opportunity to build trust.
Cheating and infidelity are major betrayals of trust and intimacy. Yet couples can and do survive this – if they're both willing to do the necessary hard work to rebuild trust.
Realize that trust needs to be earned. It takes time to earn someone's trust. You earn trust by doing what you say you're going to do, when you say you're going to do it. If yo can't, you must renegotiate clearly with your partner.
Consistency is a primary ingredient of trust. You notice consistency by honest words and actions from your partner. Actions speak louder than words. When you see repeated actions which earn your trust, then you can let your guard down and experience the deeper levels of relational intimacy which trust in your relationship makes possible.
Trust Needs to Be Earned – Don't Just Give It
When you trust your partner because they've earned your trust, you don't doubt their actions or motives. You choose to believe the best in them, because they've consistently shown you the best in themselves. You've developed something precious together over time. Make sure you practice the skills of intimacy and intimate conversation. Intimacy is a daily practice. Do everything you can to keep it!
Talk with your partner about sensitive issues like how you will deal with the inevitable betrayals that will enter your relationship. Discuss how you'll respond to inevitable misunderstandings, unmet expectations, poor choices, and bad coping behaviours in ways that increase your trust metric.
These discussions are how you practice the art of intimate conversation and build trust in your relationship.
If your partner has done everything to earn your trust, but you still don't feel comfortable, it may be because of trust issues in you, or scars from your past that you need to explore. Don't punish your partner for wounds inflicted by others long ago. Reach out for help from an experienced counsellor so you can fully trust again. Trust is the foundation of every healthy relationship, and we ALL need healthy relationships!
If you want to learn to develop or deepen the trust in your relationship, call 0421 961 687 or email me to schedule an appointment. International callers should call +61 421 961 687.
You deserve the best trained relationship coaches if you're planning to invest time and money in your relationship. If you're not ready to book an appointment, call us on 0421 961 687 to book a FREE 15 minute phone consultation to discuss how we may be able to assist you. See my 3 eBooks on Amazon.